23 avril 2010
5
23
/

04
/

avril
/

2010
23:00
Pulau Tioman
Après quelques jours passés à Cherating, nous prenons un bateau pour aller sur Tioman, une île située à une cinquantaine de kilomètres de la côte.
Le bungalow dans lequel nous nous installons se trouve sur la plage d'Air Batang.
Nous passons une semaine sur l'île, l'eau est claire et nous pouvons faire du snorkeling avec les enfants en toute sécurité. Il y a des coraux et des poissons que nous avons déjà vus sur d'autres îles mais pour la première fois les enfants peuvent nager avec une tortue marine.
Tioman est également un endroit où l'on peut se balader dans la forêt. Nous allons jusqu'à Monkey Bay à travers une jungle humide, sur des chemins escarpés pour nous baigner sur une plage où l'eau est cristalline

.
Notre seule préoccupation au cours de notre séjour sur Tioman aura été d'éviter les morsures des minuscules mouches de sable qui laissent des démangeaisons très désagréables...

Nous quittons Tioman, dernière étape de plage avant Bali en Indonésie.
After a few days spent in Cherating, we take a boat to go to Tioman, an island located at about 50 kms from the coast.
The bungalow where we decide to stay is ideally located, on the Air Batang beach.
We spend a week on the island, the water is clear and we can do snorkelling with the children without any problem as the area is very safe. There are coral reefs and fishes we have already seen on the other islands but for the first time the children can swim with a turtle.
Tioman is also a good place to go hiking in the rain forest. We go to Monkey beach, through the humid jungle, taking rugged paths and arrive on a beach with cristal blue waters

.
The only issue we have during our stay is avoid the tiny sandflies biting us as it can be very unpleasant...

We leave Tioman, last stop on a beach before Bali in Indonesia.
Arrivée à Tioman
Arriving at Tioman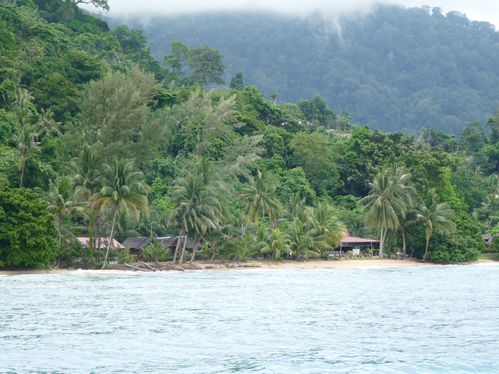 Notre pension
Our guest house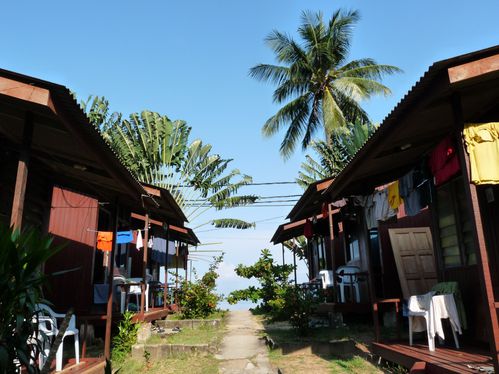 Nos voisins...
Our neighbours...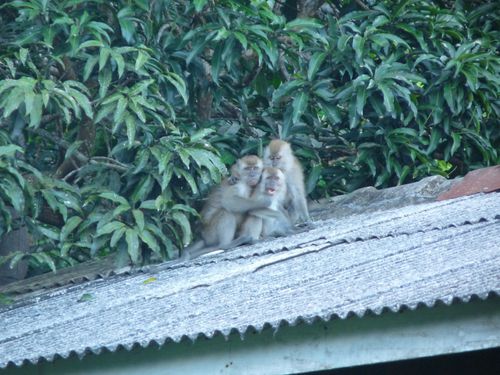 Plage d'Air Batang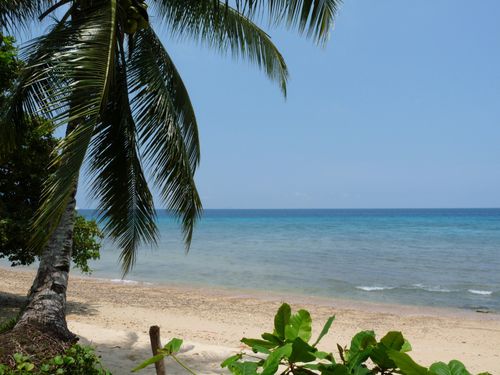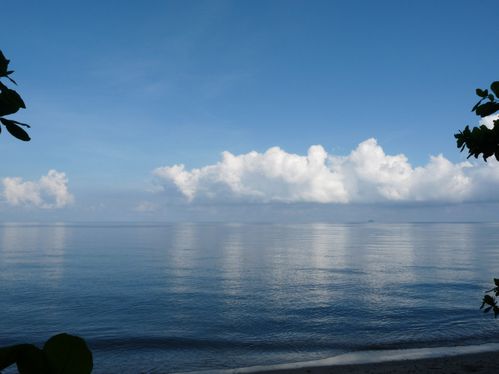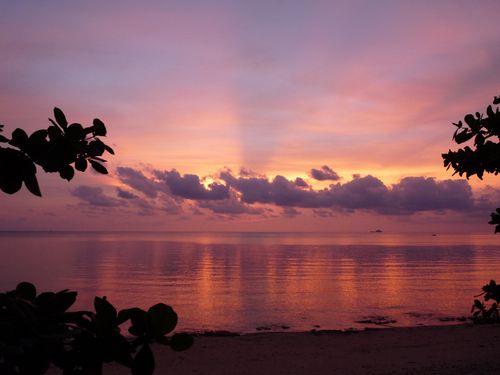 En direction de Monkey Bay
On the way to Monkey Bay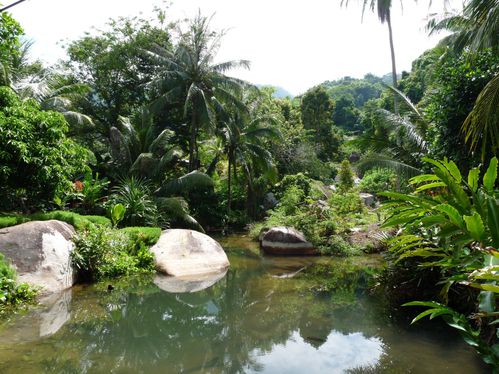 Dans la foret, pour Monkey Bay
In the jungle, on the way to Monkey Bay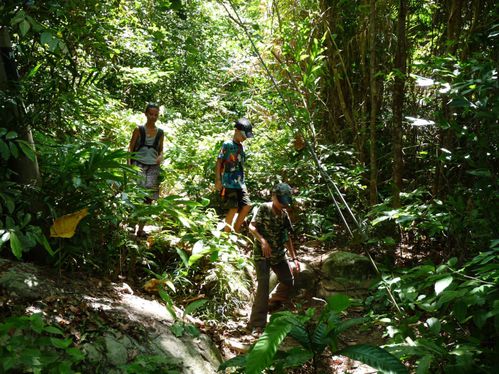 Monkey Bay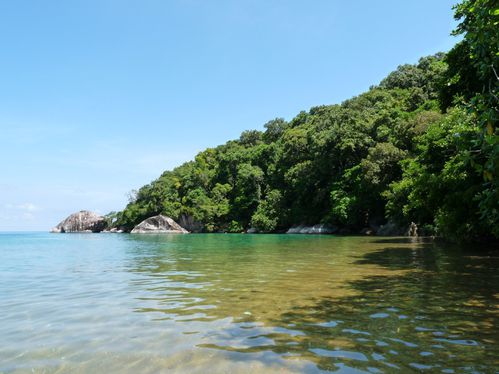 De curieux poissons ...
Some curious fishes...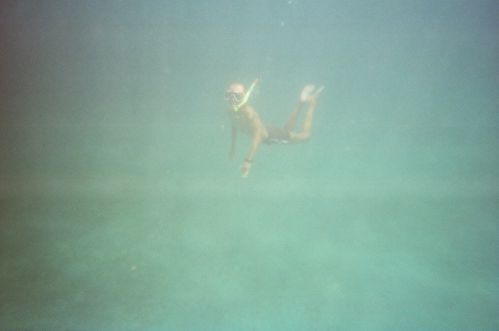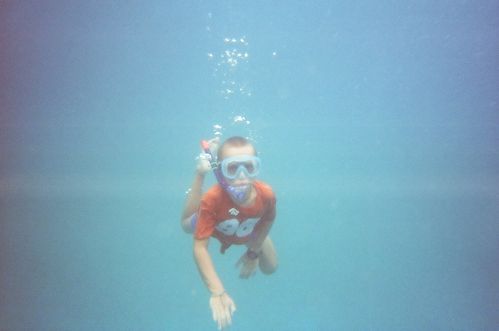 Nage avec une tortue
Swimming with a turtle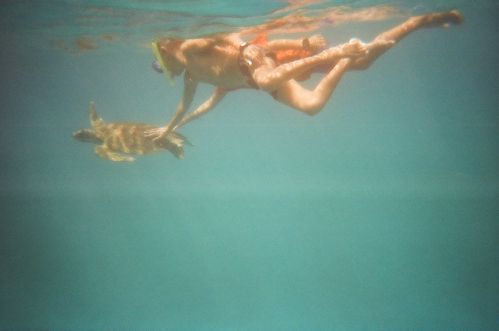 Moment de détente...
leisure time...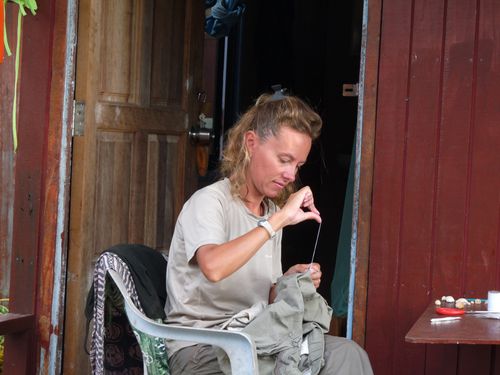 Départ de Tioman (merci Pierre et Aleth pour cette photo)
Leaving Tioman (Thanks to Pierre and Aleth for this picture)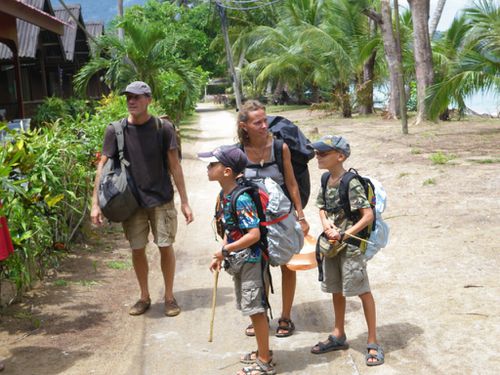 Pause déjeuner, en attendant le ferry.
Lunch time, waiting for the ferry boat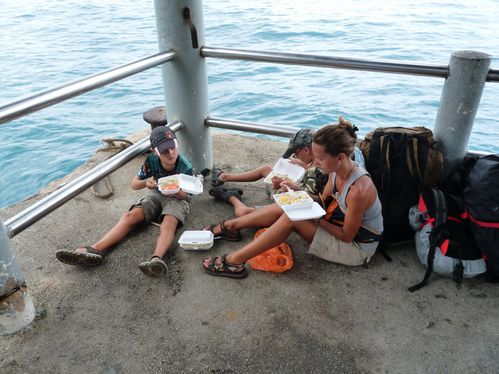 Malacca
Malacca a été inscrite au patrimoine mondial de l'Unesco en 2008. Son quartier historique d'influence portugaise et hollandaise offre de nombreux monuments à visiter. Les rues des quartiers de Chinatown et Little India sont très colorées et animées. Nous restons quelques jours pour nous balader dans cette ville tranquille et agréable.
Malaca has been added to the Unesco list in 2008. Its historical quarter built under Portuguese and Dutch eras offers lots of munuments to visit. The streets of Chinatown and little India are very colourful and busy. we stay a few days to appreciate this quiet and beautiful city.
Christ church construite par les Hollandais
Christ church built by the Dutch people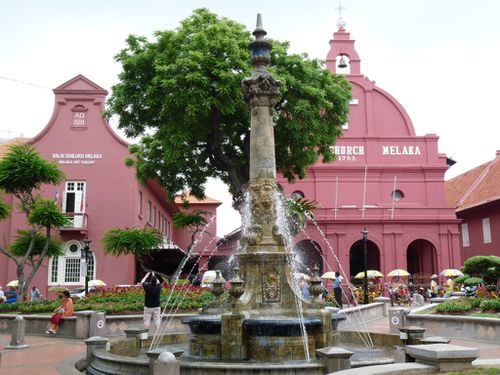 Rue de Malacca
Street of Malacca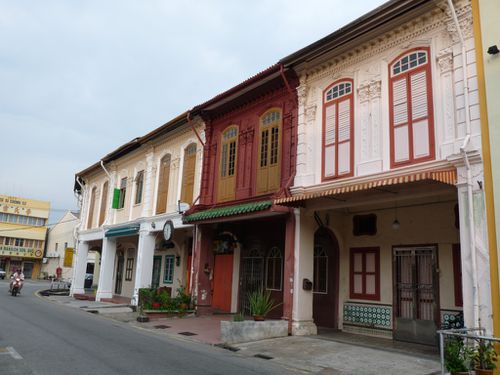 Porte de Santiago
Santiago's gate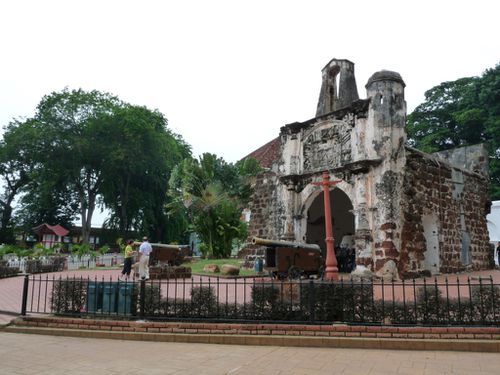 Canal dans la ville
Chanel in the city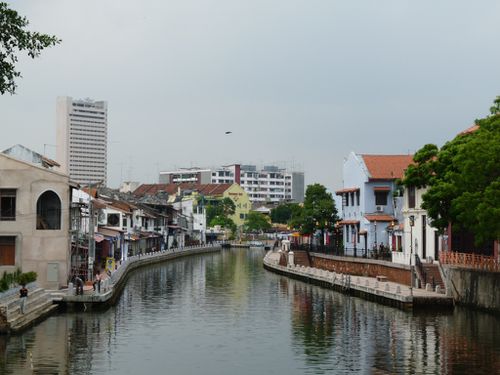 La mosquée flottante (Masjid Selat Melaka)
The floating mosque (Masjid Selat Melaka)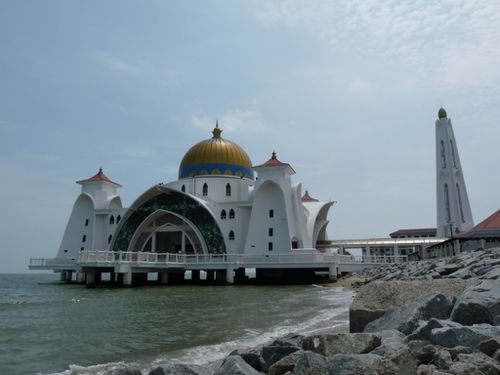 Au musée de la marine, cap'taines Romain et Florian...
At the maritime museum, captains Romain and Florian...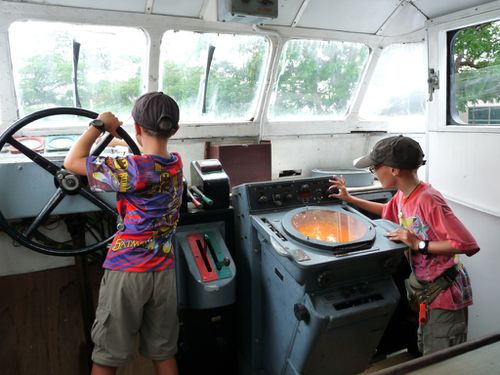 Courage, le bus va bientôt passer...
The bus should be coming in a minute...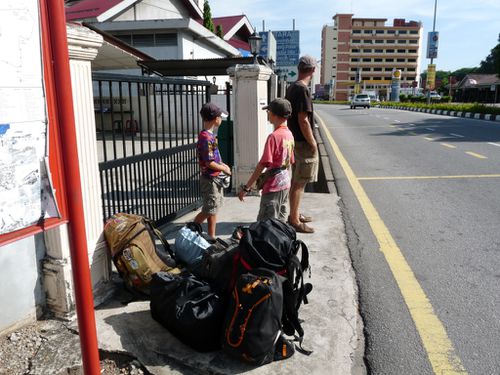 Kuala Lumpur
Nous arrivons dans la capitale jeudi après-midi (le 22 avril). Pas facile de trouver de quoi se loger et nous tournons un bon moment, visitons de nombreux hôtels chers ou sales (quelquefois chers et sales) avant de nous retrouver à proximité du quartier chinois dans Jalan Pudu. Nous restons 4 jours à Kuala Lumpur et visitons Chinatown, Little India, les tours Petronas et Batu caves.
La ville est bien desservie par les bus et les métros. De nombreux restaurants chinois, indiens ou malais permettent à chacun de trouver son bonheur. Comme dans toutes les grandes villes d'Asie, on a vite envie de retrouver un peu de verdure...
We arrive in the capital city on thursday April 22nd. It's not easy to find out good accomodation in the city centre and we have to spend some time to visit hotels, some ones are too expensive, others too dirty (some are both...). Finally we can find a place near the chinese quarter, in Jalan Pudu. We stay 4 days in Kuala Lumpur and visit Chinatown, Little India, the twin towers and Batu caves.
Transportation is quite good and there are lots of buses and railway stations. There are also lots of chinese, indian and malaysian restaurants to satisfy everybody. Like other big cities in Asia, we look forward to getting away and find a more peaceful place...
Chinatown, Petaling street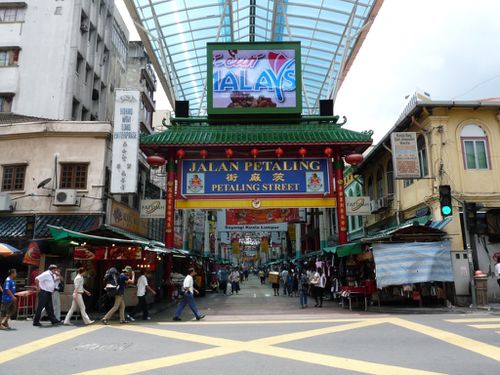 Kuala Lumpur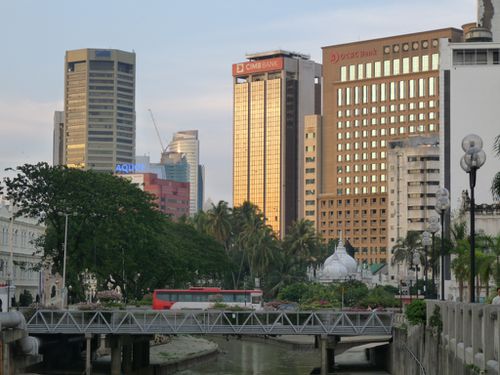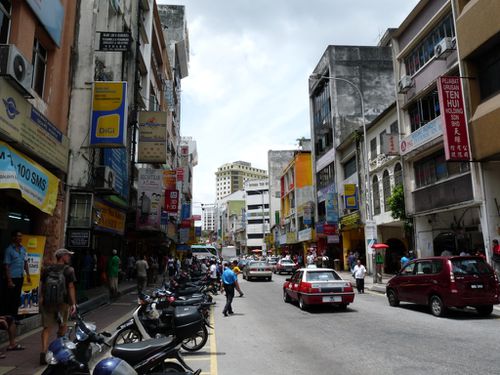 Les tours jumelles Petronas
The Petronas twin towers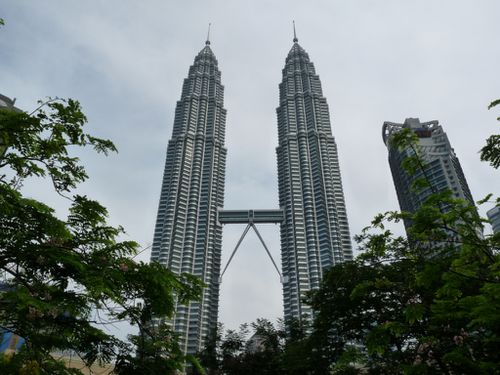 Johny, le champion du thé tarik (tarik signifie "tiré" en malais)
Johny the Tea Tarik champion (tarik means pulled in Malaisian)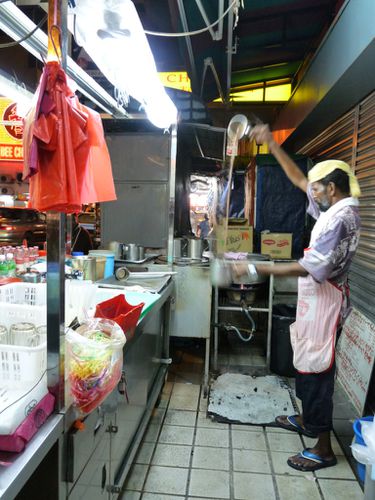 Voila la vedette
Here is the star
Batu Caves (temple indien)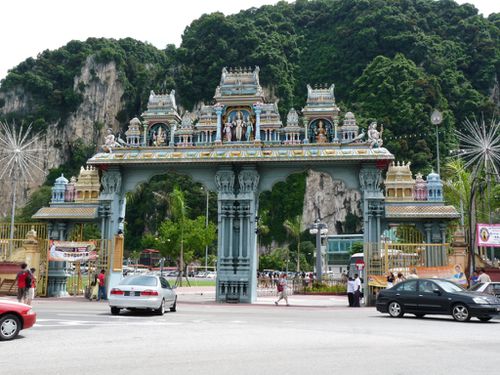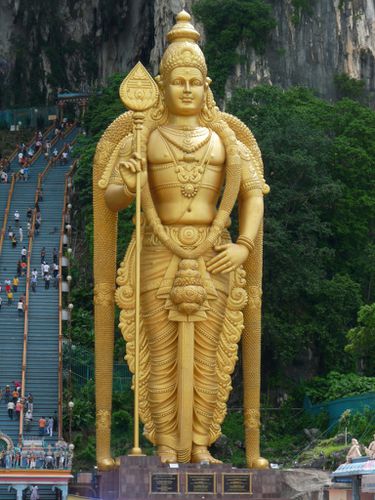 Pretresse avec de tres tres longs cheveux...
This Priestess has very long hair, hasn't she ?..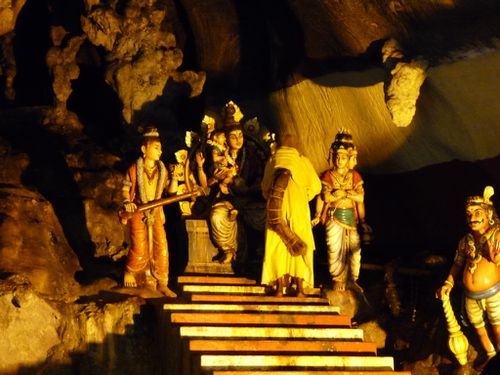 Sudah satu bulan di Malaysia. Pada tanggal 26 Juni, kami akan pergi ke Indonesia yang jadi negara terakhir. Kami mau bepergian selama dua bulan di sana (Jawa, Bali, mungkin Lombok), sebelum pulang ke Perancis

A vos dictionnaires...