5 novembre 2009
4
05
/

11
/

novembre
/

2009
00:00
Pakse
Nous passons la frontière le 29 octobre et arrivons à Pakse, capitale de la province de Champasak au Sud du Laos.
A environ 40km à l'Est de Pakse, le plateau de Bolaven est très connu pour ses plantations de café et de thé. On peut également y admirer de belles chutes d'eau.

We cross the border on Oct 29th and arrive in Pakse, capital of the southern Champasak district. About 40 kms East of Pakse the Bolavn plateau is famous for its coffee and tea plantations. Some impressive waterfalls can be seen as well and are the main attractions.

Marché central de Pakse
Main market of Pakse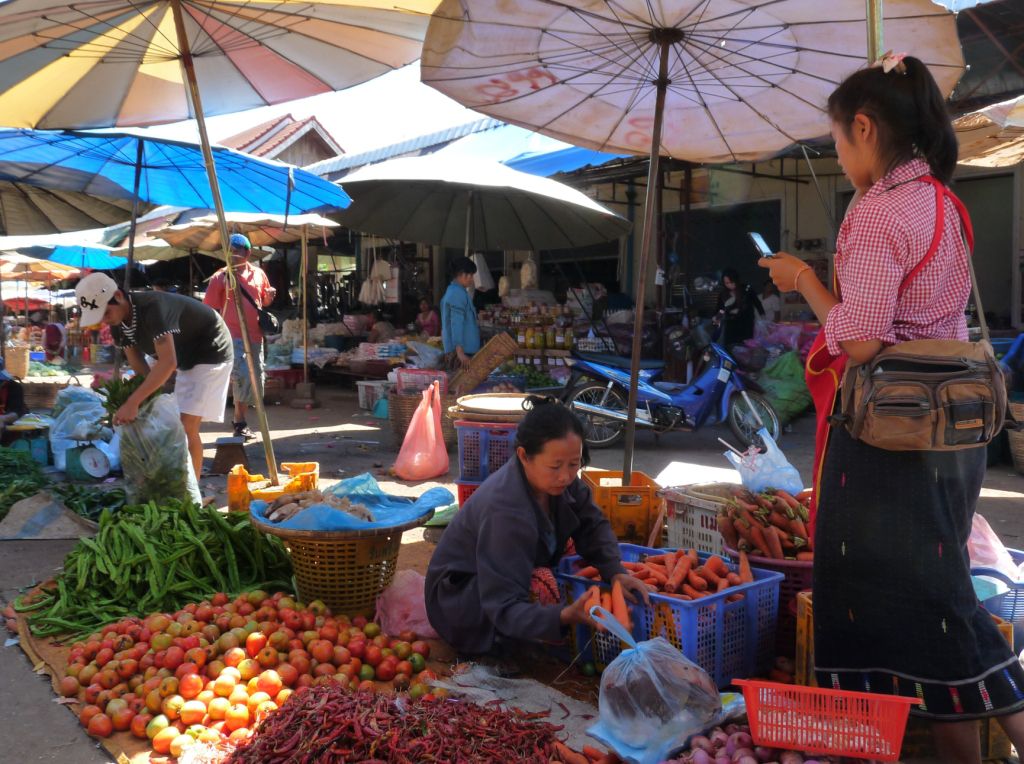 Bord du Mékong à Pakse
On the Mekong riverside in Pakse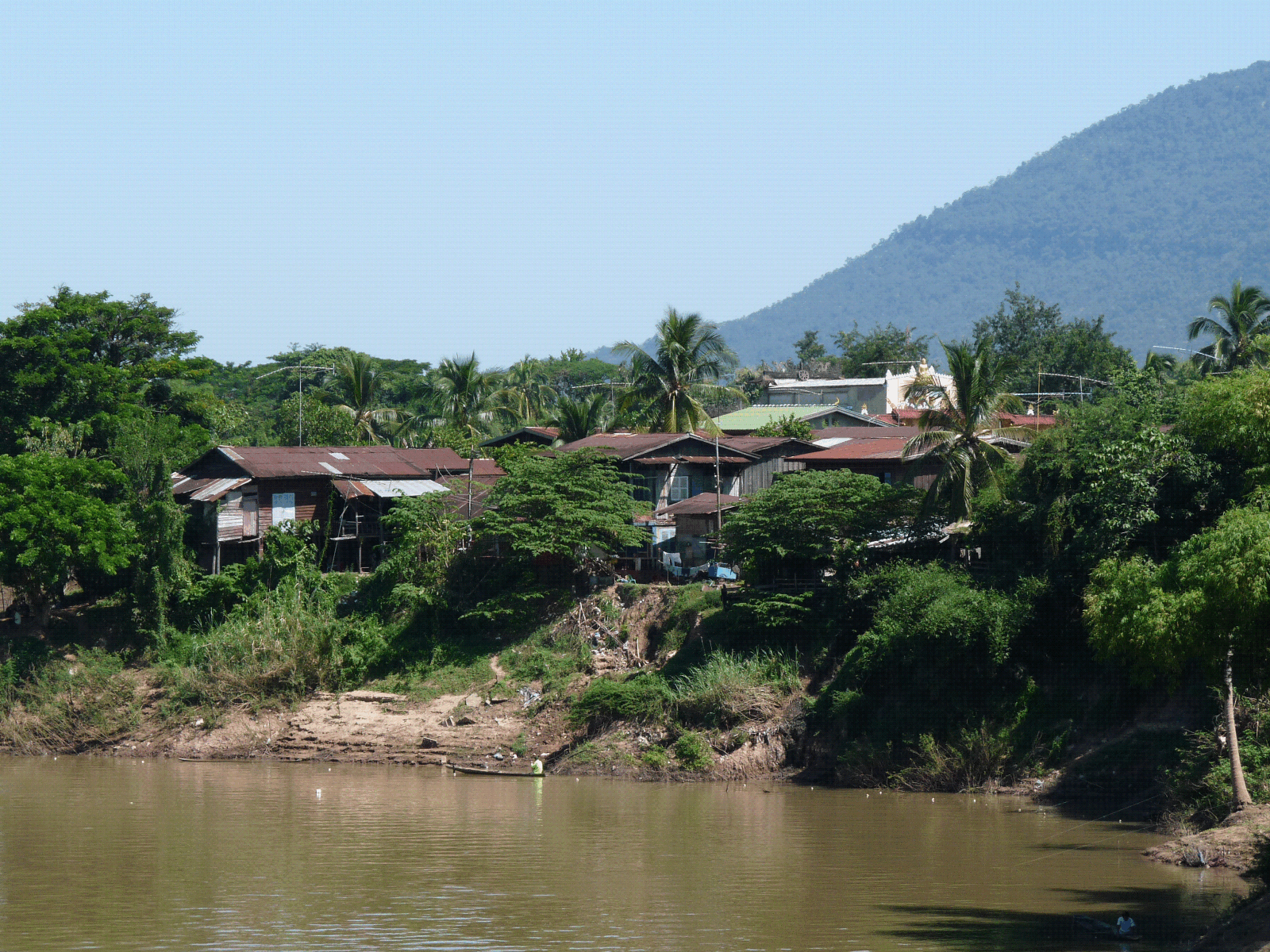 Plateau de Bolaven. Caféier
Bolaven Plateau. Coffee trees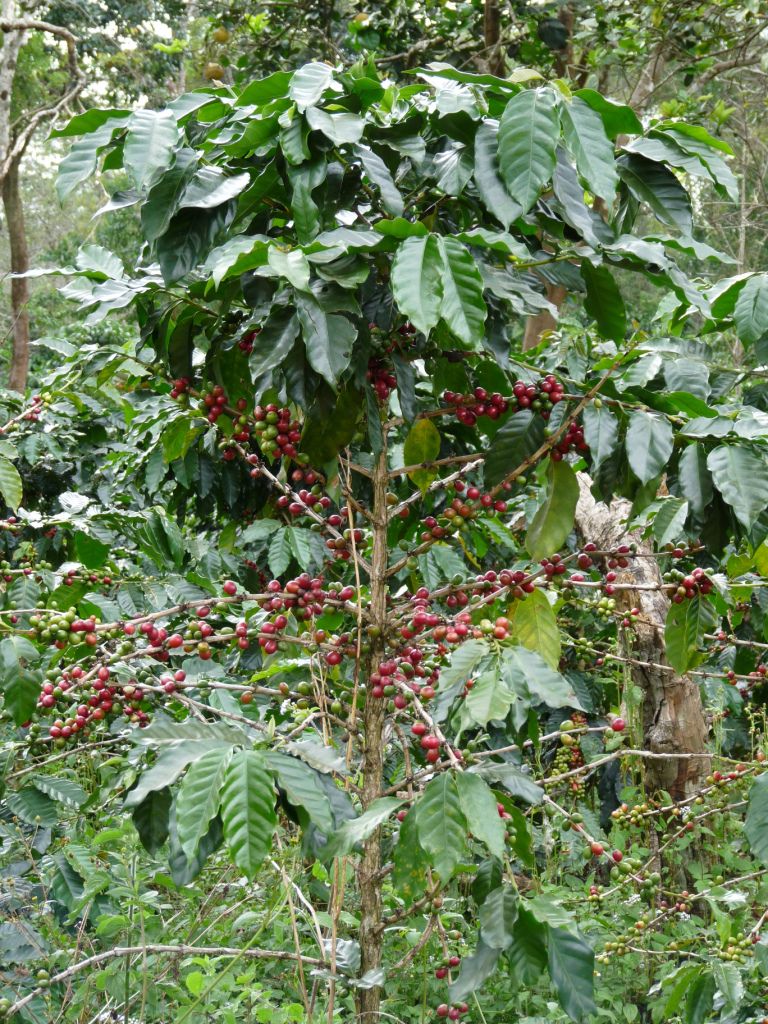 Séchage du café
Coffee beans drying on the ground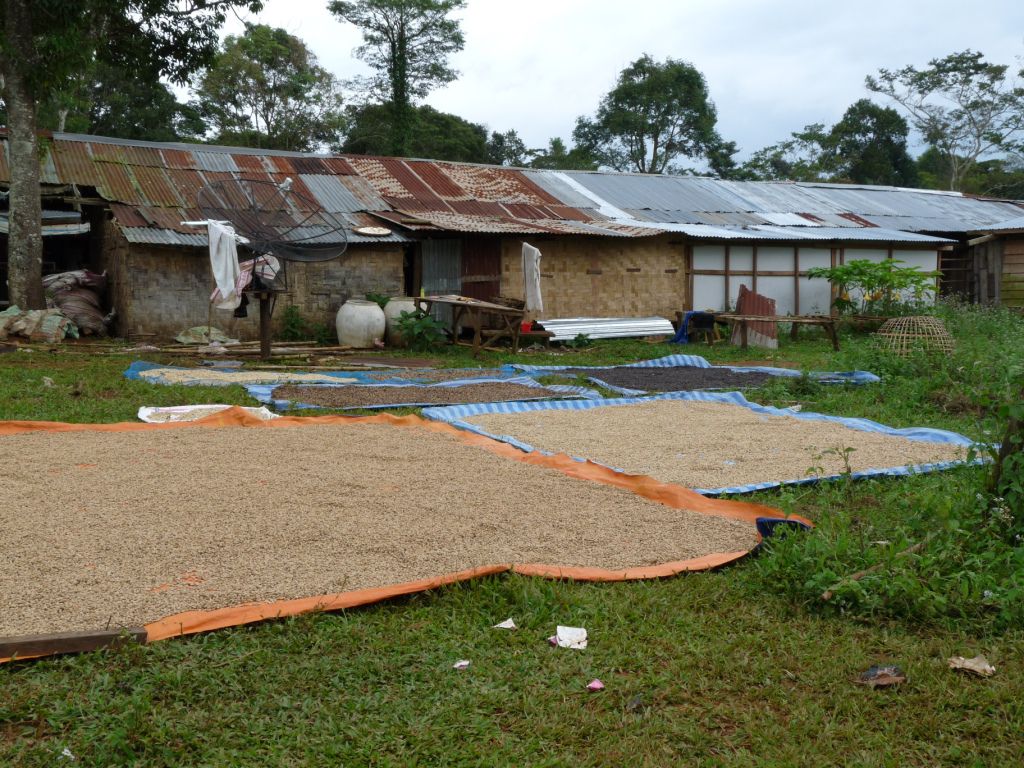 Plateau de Bolaven. Tad (chute) Yuang vue d'en haut
Bolaven Plateau. Tad (waterfall) Yuang view from the top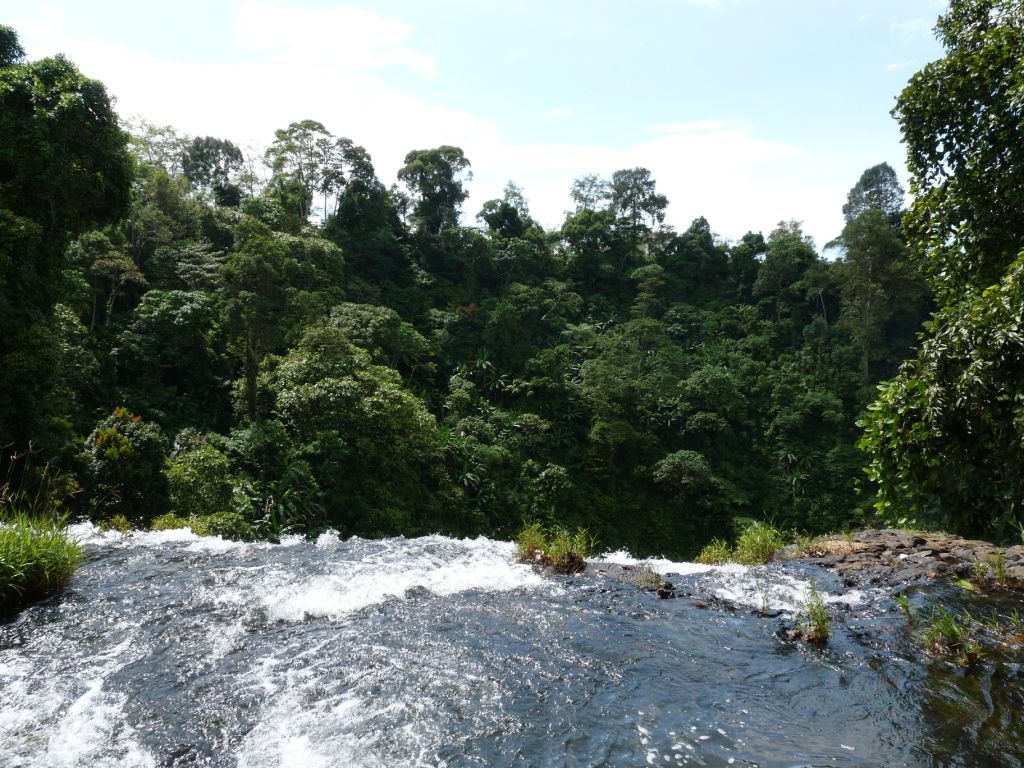 Tad Yuang vue d'en bas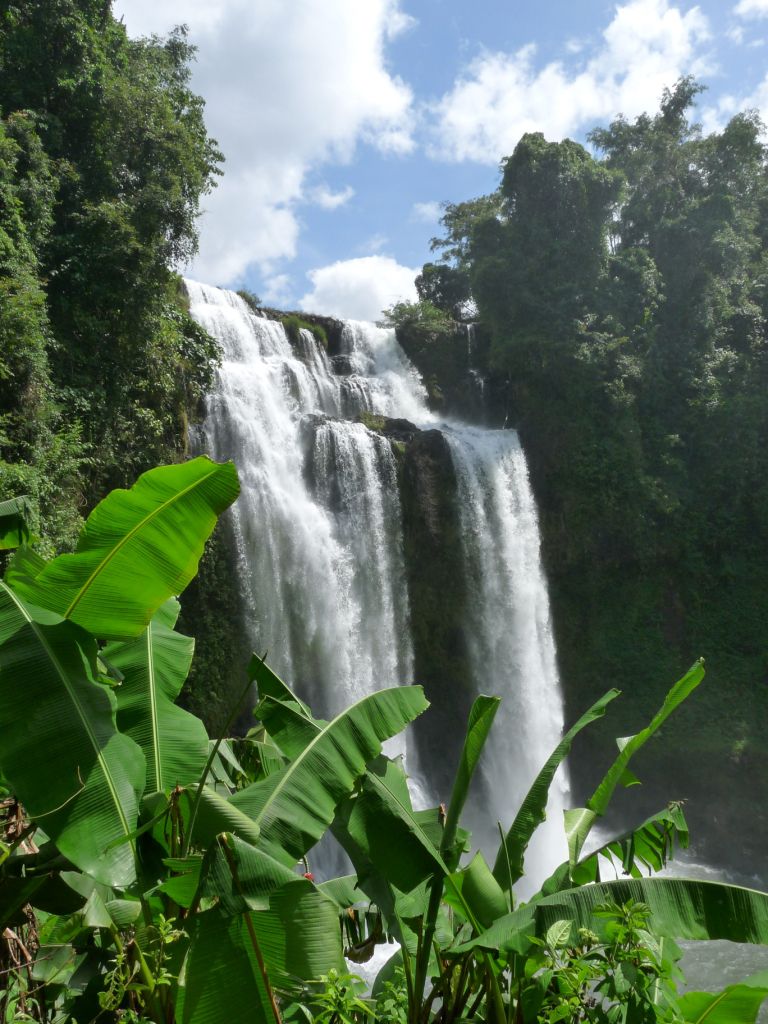 Tad Fane (120m de haut)
Tad Fane (120m high)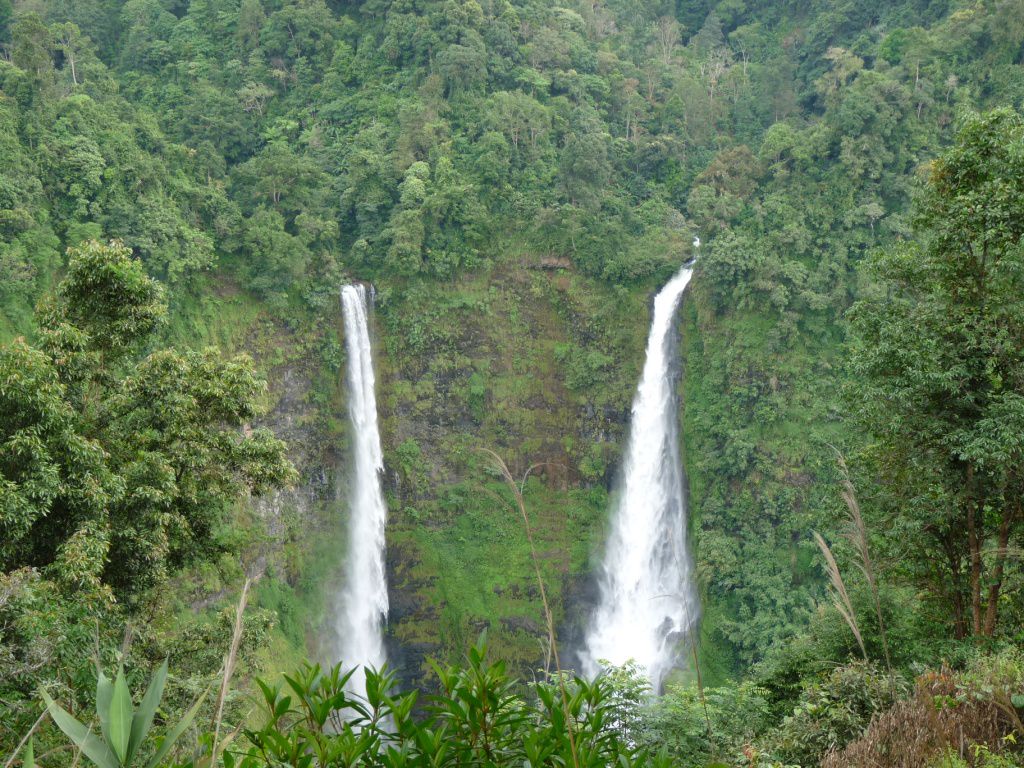 Sur la route des chutes, au milieu d'une plantation de café : faut-il prendre à droite ou à gauche ?
On the way to the waterfalls, within a coffee tree plantation : should we turn right or left ?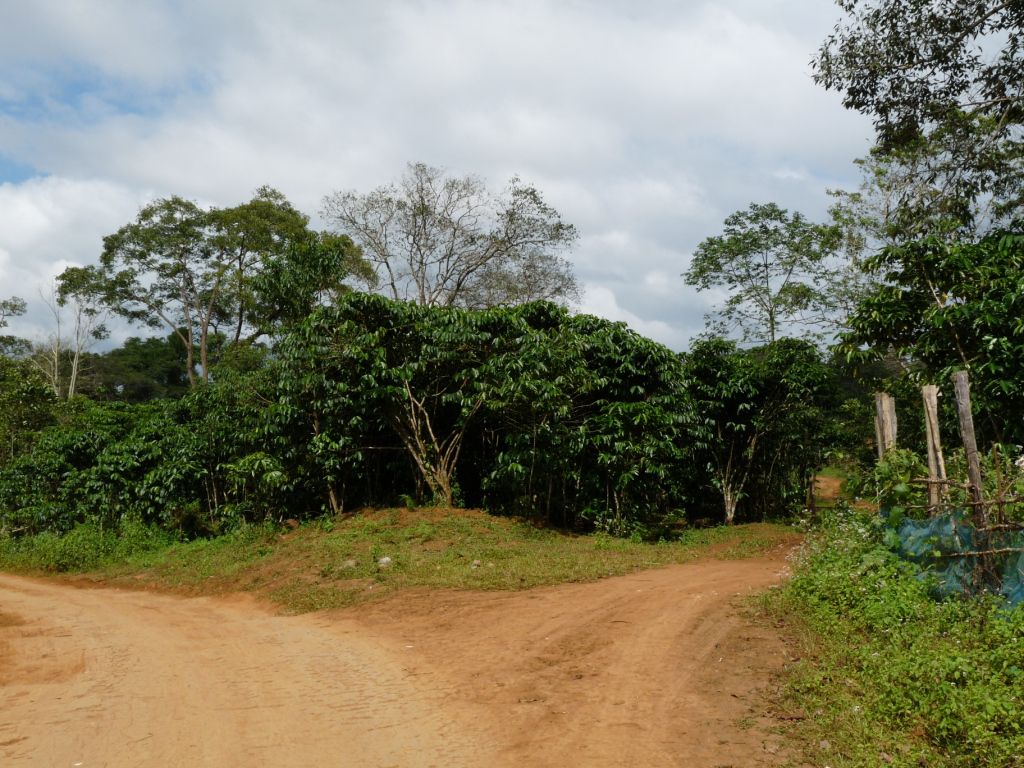 Don Khong
Au Sud de Pakse, à environ 120km (3h30 de transport...), les 4000 îles sont situées dans les bras du Mékong près de la frontière Cambodgienne. Les "bus" du Laos sont nettement moins confortables qu'en Thaïlande mais surtout plus folkloriques. Nous voyageons à 35 dans un "Lot doi saan" (petit camion sur la photo plus bas) sans compter la douzaine de poules et de canards casés sous les sièges et les nombreux sacs de riz (on ne les a pas comptés...).
Nous restons quelques jour sur l'île de Don Khong, la plus étendue des 4000 îles. Elle mesure 24km sur 8km et la plupart des habitants vivent de la pêche et de l'agriculture.
La vie s'écoule paisiblement ici et Muang Khong, où nous posons nos sacs, est vraiment la définition d'une ville endormie.

Sout of Pakse, about 120km (3h30 by bus), the 4000 islands are located in a section of the Mekong river, just north of the border with Cambodia. Buses in Laos are much less confortable than in Thailand but very funny. We are 35 people packed in a truck, without taking into account many chicken and ducks under our benchs and the heavy bags of rice under our feet.
We stay a couple of days in Dong Khong, the largst of the 4000 islands. It's a small island (24km long and 8km wide) and most of the inhabitants are fishmen and farmers.
Life moves very slowly here and Muang Khong where we stay is the very definition of the sleepy district capital.

Maison traditionnelle de l'île, vétuste mais pas totalement coupée du monde...
Traditional house on the island, very basic but not so isolated...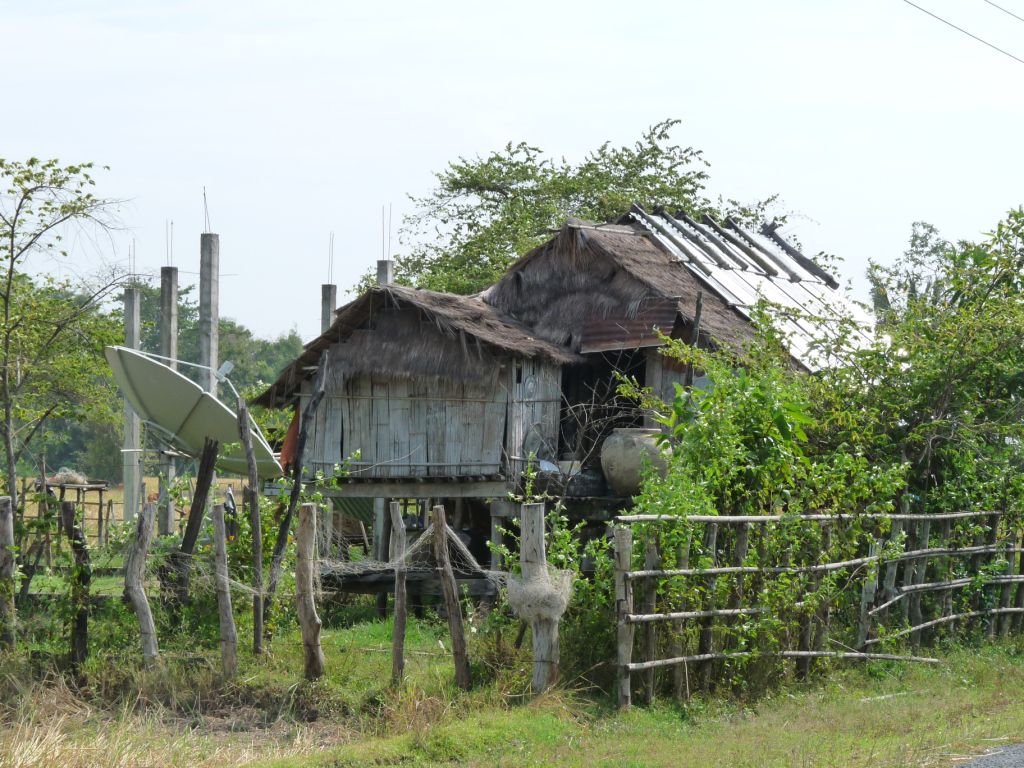 Piscine des enfants de Muang Khong


Swimming pool of Muang Khong children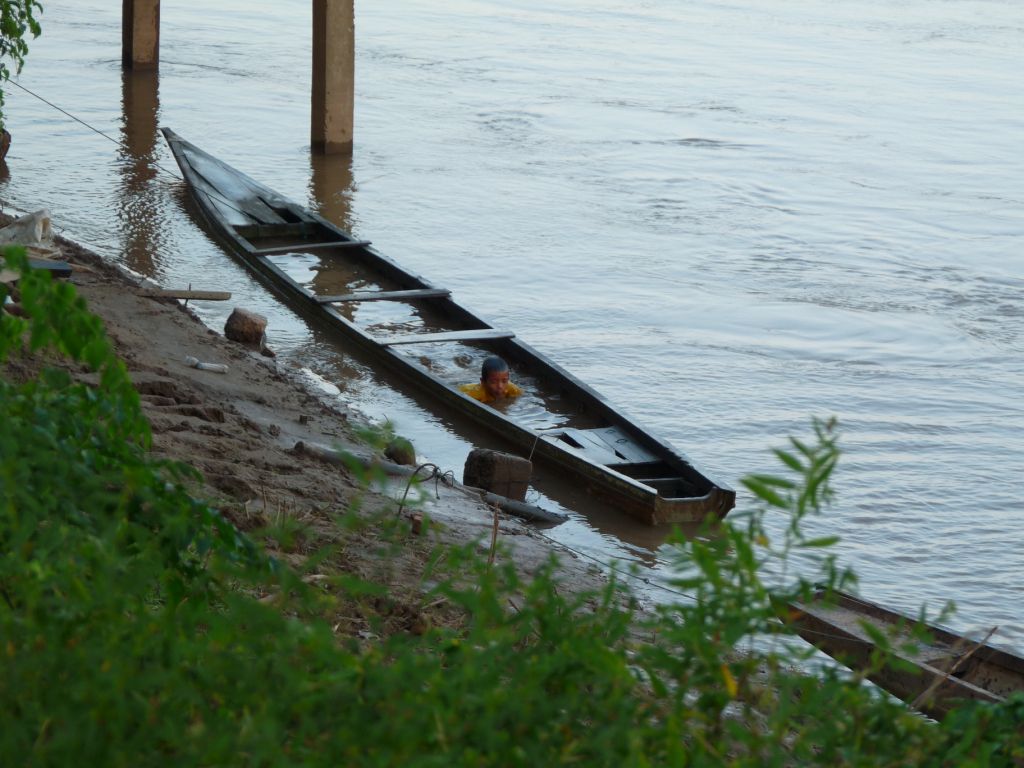 Notre "bus VIP" -Lot doi saan- avant le passage du Mékong sur le ferry. Sur le toit dans les paniers, les poules et les canards qui ne tiennent pas sous les pieds.
Our "VIP bus" -Lot doi saan- before crossing the Mekong river on the ferry. On the roof in the baskets, many chikens and ducks.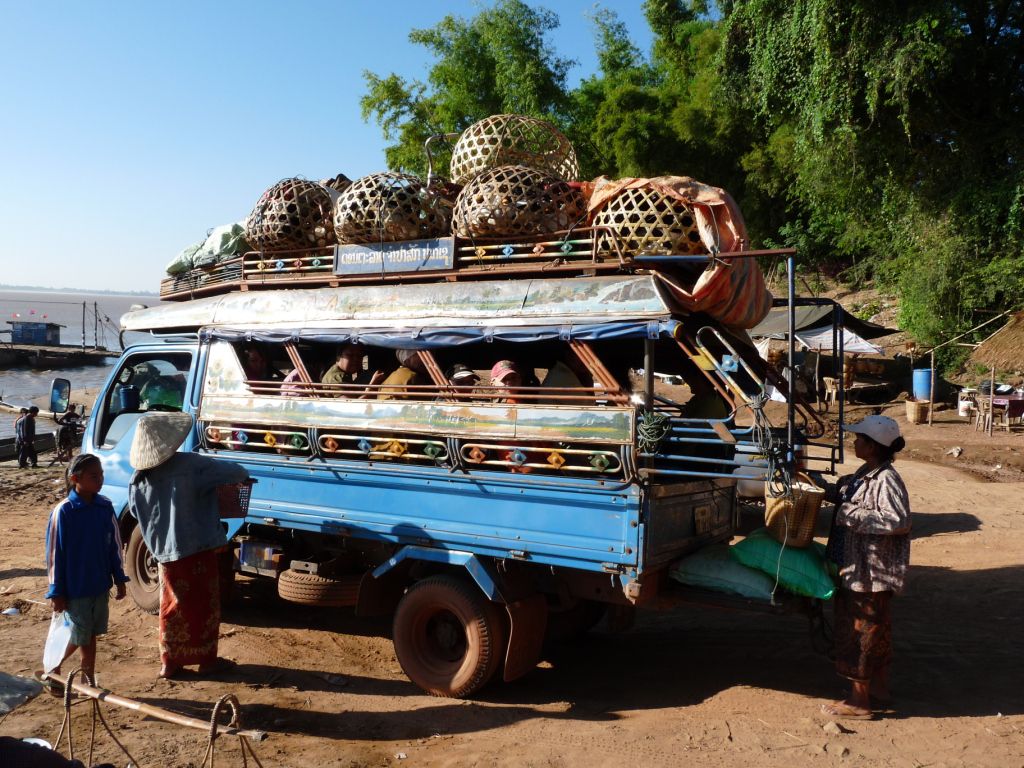 Ferry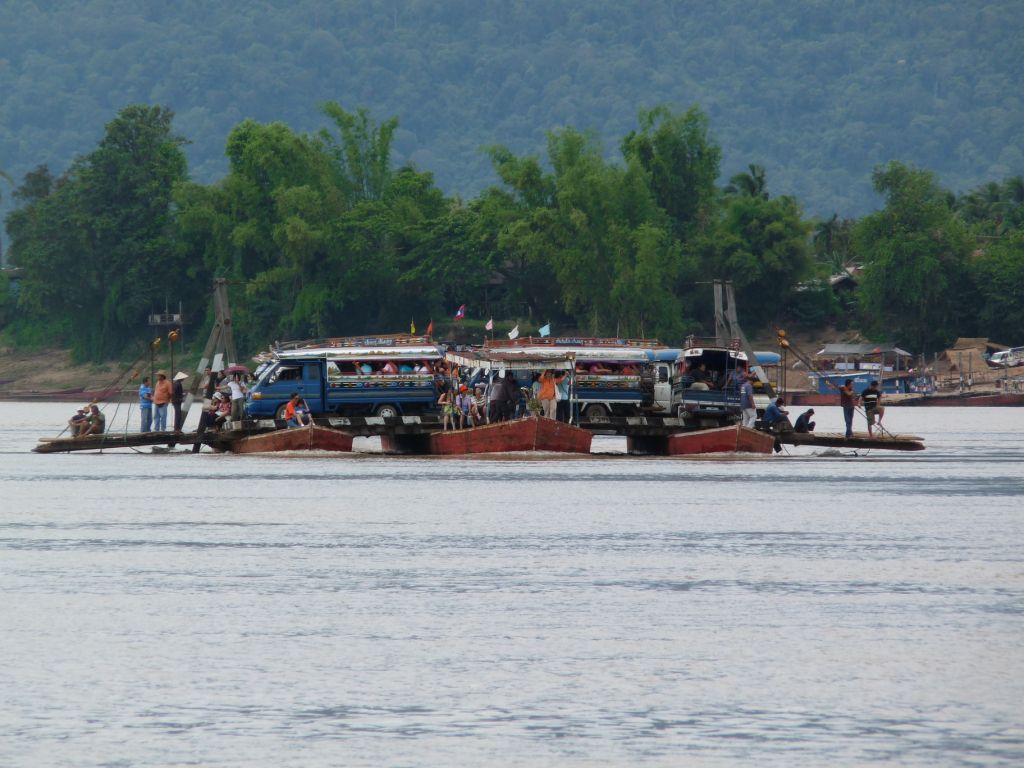 Champasak
Champasak est une ancienne capitale royale, mais de nos jours ce n'est plus qu'un gros village très tranquille. Des ruines de la période Angkor, à 8km au Sud de la ville, sont la principale attraction. Nous louons 2 vélos pour aller visiter le site historique. La route est longue (surtout avec les garçons derrière) et en mauvais état.
Ici, nous ne sommes pas embêtés par le bruit... La principale occupation est de regarder couler le Mékong.

Champasak is an ancient kingdom capital, but nowadays it's no more than a big village very quiet. Some ruins of the Angkor period, at about 8km south of the town, are the main attraction. We rent 2 bikes to visit the historical site. Because we have to carry the children an the road is in bad shape, It's a long way...
We are not disturbed by the noise and the only thing to do here is looking at the Mekong.

Vendeuse de brochettes de criquets sur la route pour aller à Champasak. Il est 8h du matin et c'est un peu tôt pour déguster les spécialités culinaires locales...
Seller of barbecued insects on the road to go to Champasak. It's 8am and too early to taste the local food...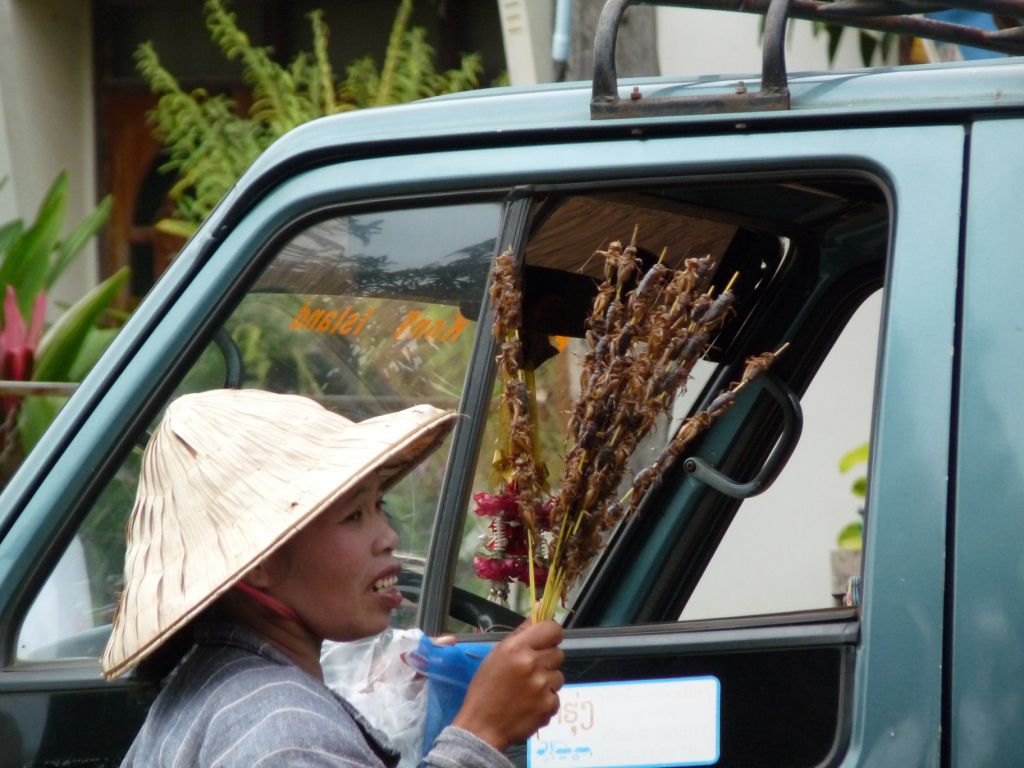 Champasak. Ruines du Wat Phu
Champasak. Wat Phu ruins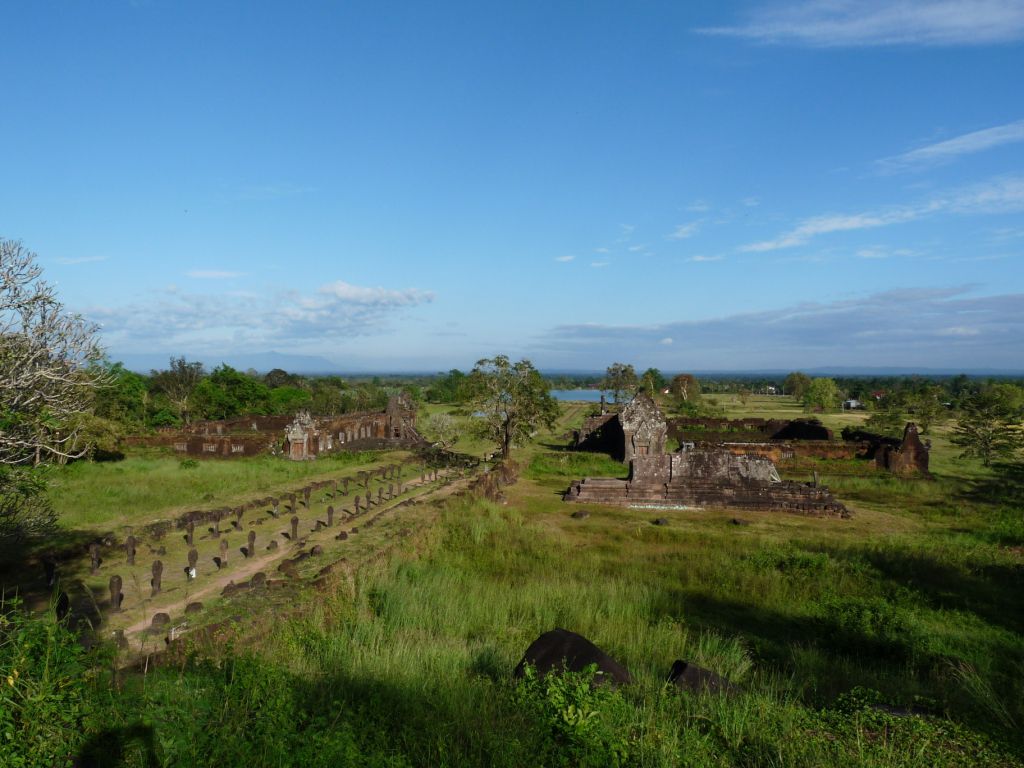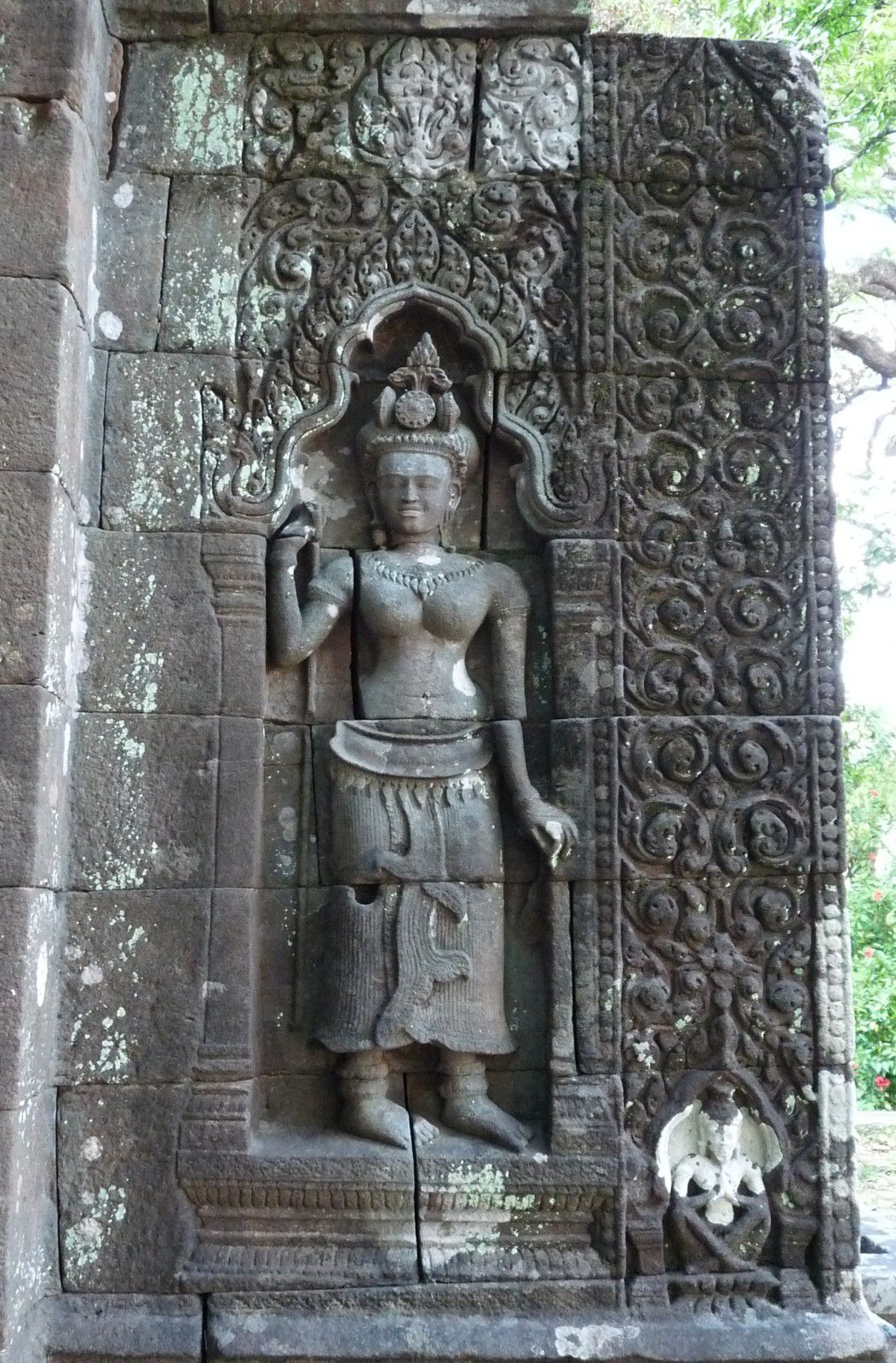 Le soir, mandi pour tout le monde (douche a l'indonesienne) : une casserole et un bac d'eau froide.
In the evening, mandi shower for everybody (like in Indonesia) : a pan and a bucket full of cold water.