13 décembre 2009
7
13
/

12
/

décembre
/

2009
00:00
Hanoi
Le 2 décembre, nous prenons le train à Lao Cai pour nous rendre à Hanoi. Le train part à 9h15 et arrive dans la capitale à 20h30, soit une peu plus de 11 heures de trajet. C'est long mais les garçons se comportent bien. Nous profitons de toutes ces heures pour faire l'école, des parties de cartes et d'autres jeux.
Hanoi est une ville très animée et très bruyante. Nous trouvons un hôtel dans le vieux quartier au bord du lac Hoa Kiem, là où toute sorte de vendeurs exposent leurs étals dans la rue. Il y a des ruelles entières spécialisées dans les vêtements, les bijoux, les tiges de bambou, les souvenirs, les bonbons et pour le plus grand plaisir des enfants... les jouets.
Pendant 3 jours, nous sillonnons ce dédale de petites rues, allons visiter le musée Ho Chi Minh et profitons de la quiétude du lac pour nous reposer un peu et nous régaler du spectacle insolite des scènes de rue.

On December 2nd, we take a train from Lao Cai to go to Hanoi. The train leaves at 9:15am and arrives in the capital city at 8:30pm, after 11 hours. It's quite a long journey but the children do really behave well during all the trip. We do spend hours doing school, playing cards and other games.
Hanoi is a very busy and noisy city. We can find an hotel in the old quarter north of the Hoam Kiem lake, where lots of vendors sell their products in the streets. There are areas fully dedicated to clothes, jewelery, bamboo trees, gifts, sweets and for the happiness of the children ... toys.
We stay here 3 days roaming in those streets. We also visit the Ho Chi Minh museum and do rest on the quiet riverside of the lake. The show is everywhere and we just stay looking at the buccolic city life.

Départ de Lao Cai pour Hanoi : 11 heures de train
Lao Cai : our train to go to Hanoi (the journey takes 11 hours)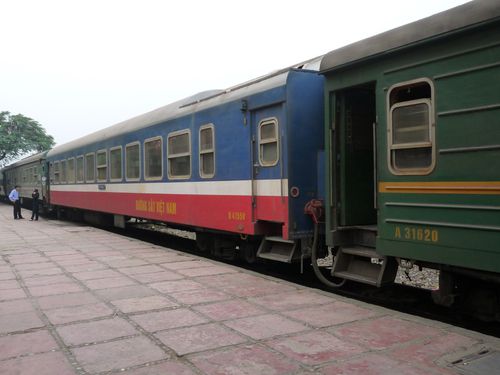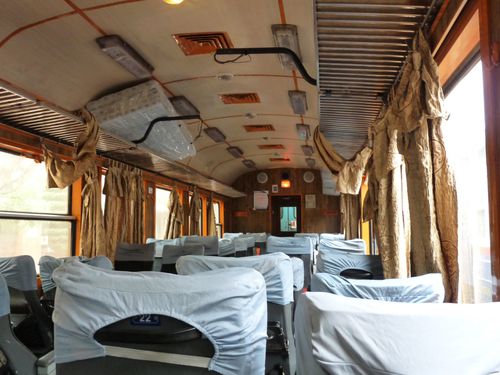 Parties de cartes pour passer le temps
The children playing cards during the trip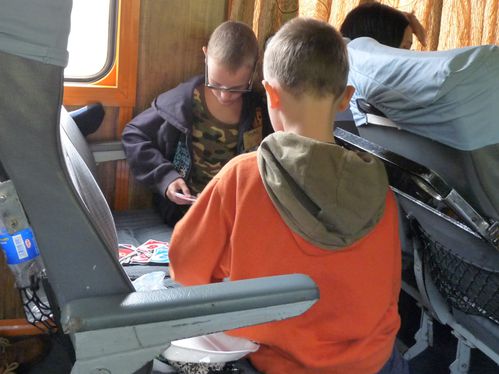 Dans le vieux quartier d'Hanoi
In the old quarter of Hanoi



Bazar ambulant
Whatever you want, this seller will satisfy your need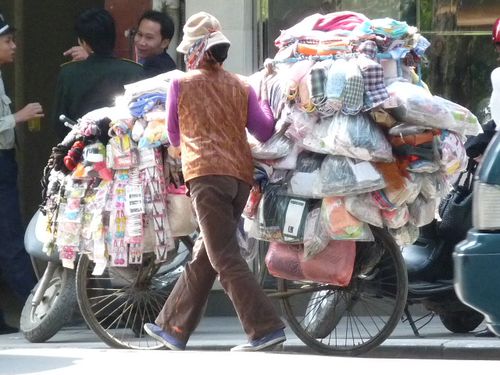 Darty vous livre a domicile...


With UPS, you can be delivered whatever you want ...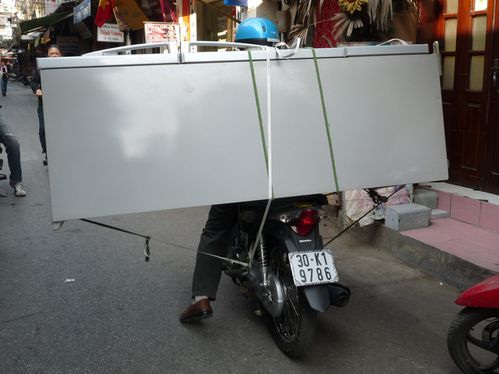 Réparation des chaussures qui ont bien souffert depuis notre départ...
The shoes needed to be fixed as they suffered a lot since our departure...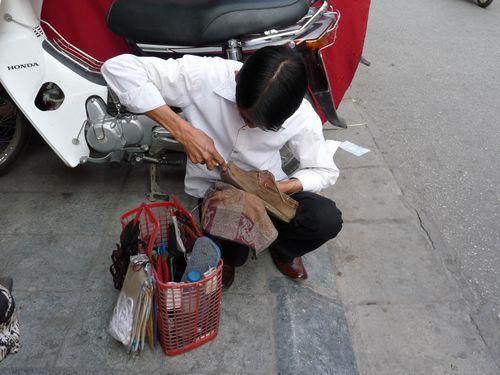 Vendeuse de ballons qui n'a pas peur de s'envoler...
A remake of UP ?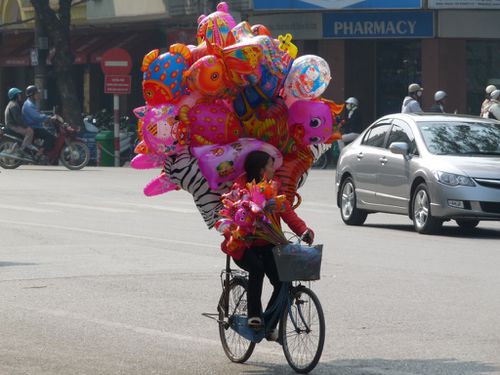 Hanoi : Lac Hoa Kiem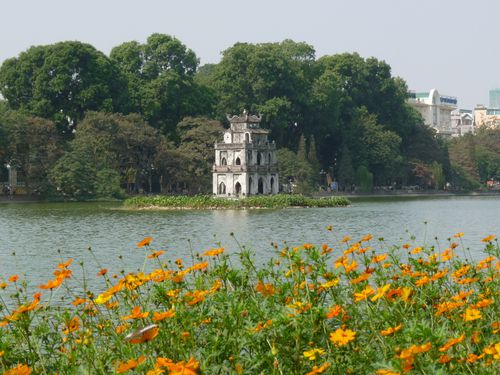 Tentative de révisions sur un banc public...
A try to review the lessons on a public bench of Hoa Kiem lake ...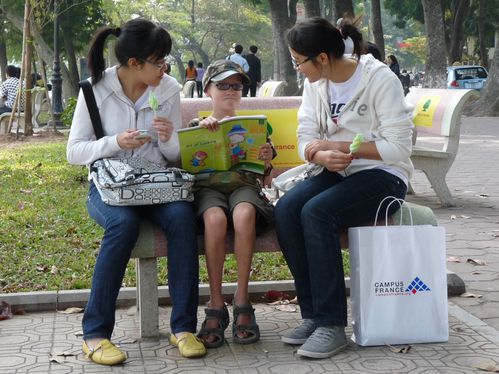 La rue de la tentation entièrement dédiée aux jouets...
Temptation street. This street is full of toy shops ...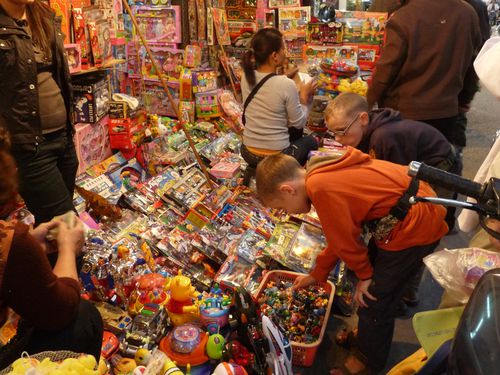 Halong Bay
Inscrite au patrimoine mondial de l'Unesco en 1994, la Baie d'Halong est une étape incontournable quand on visite le Vietnam.
Si les paysages des montagnes karstiques qui émergent de la mer émeraude sont connus pour leur beauté, Halong City est une ville sans caractère où tout et n'importe quoi a été bâti au moment du boom touristique. Nous louons un bateau pour une promenade de 6h. Nous sommes les seuls passagers à bord d'un bateau bien trop grand pour nous. Les enfants en profitent pour jouer les apprentis capitaines. Malheureusement, le ciel est gris et les paysages sont moins beaux que sur les cartes postales.

The area was designed as a world heritage site in 1994. It's a place you can avoid when visiting Vietnam.
The incredibles karstic islands rising from the emerald waters are well known for their vision of breathtaking beauty. Though the city enjoys a stunning position on the crusp of Halong Bay, developers are dumped a succession of high rise hotels along the shoreline and it has become an ugly city.
We rent a boat to do a 6hour ride in the bay. We are the only passengers on board and the boat is too big for the 4 of us. The children can play and learn how to sail. Unfortunately we have bad weather, the sky is grey and the scenery is less beautiful than expected.

Moto-taxi (xe om) ; il est conseillé de bien se tenir...
Taxi moto (xe om) ; not easy to find something to hang to...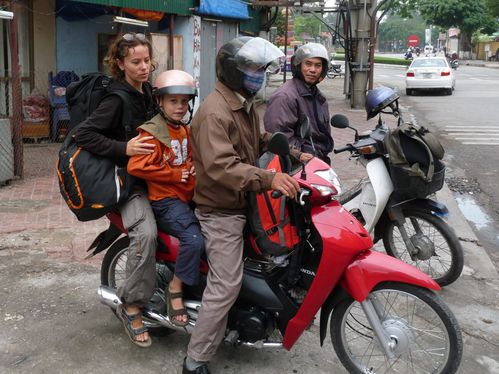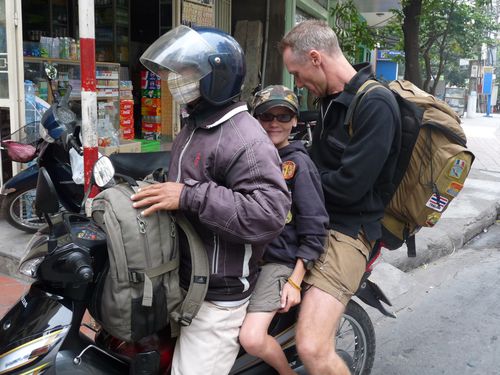 Baie d'Halong où quand on parle de boum touristique ...
Halong Bay. What does touristic boom mean ???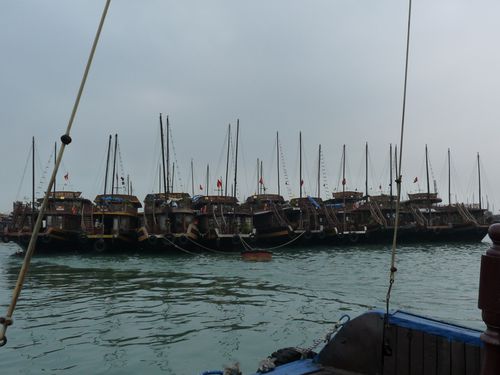 Notre "petit" bateau...
Our '"small boat"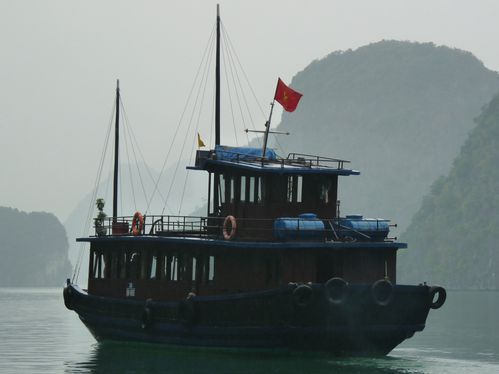 Le commandant et son second.
Our captains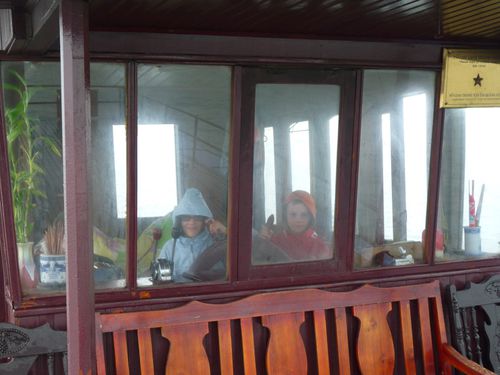 Paysage sous le temps maussade
Unfortunately the weather was quite bad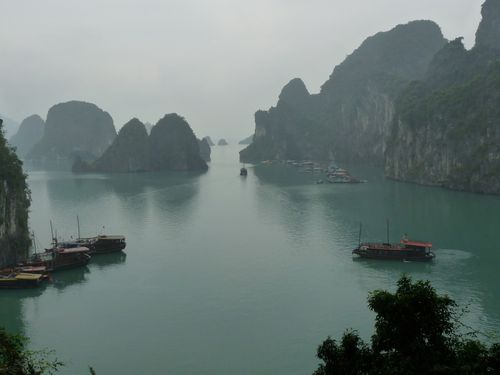 Village de pêcheurs
Fishermen village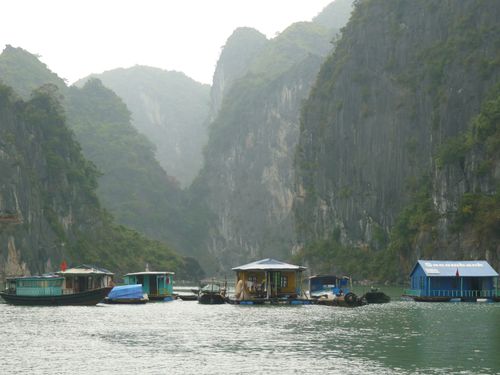 A l'intérieur d'une grotte
Within a cave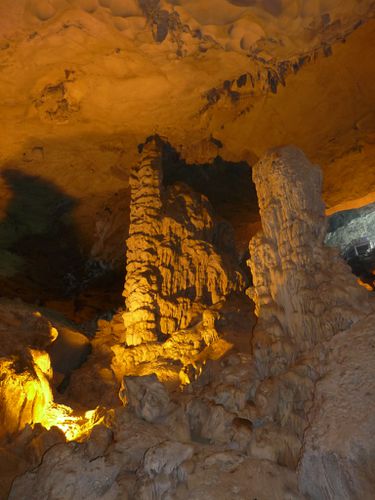 Ninh Binh
Ninh Binh est à 5h de bus au Sud-Ouest d'Halong City. La ville par elle-même ne présente pas grand intérêt mais ce que l'on vient visiter ici ce sont les magnifiques paysages de Tam Coc qui ressemblent un peu a ceux de la Baie d'Halong.
Nous faisons un tour de barque sur une rivière qui serpente entre des pics montagneux. Les rameuses ont une façon singulière de tenir leurs rames : elles utilisent leurs pieds pour pagayer.
Nous passons dans des tunnels creusés naturellement dans les montagnes. Le plus long mesure 120m et est à peine plus élevé que le niveau de l'eau.
A quelques kilomètres de Tam Coc, il est possible d'avoir une vue panoramique sur la rivière Ngo Dong depuis le sommet d'une colline, après avoir gravi les 463 marches creusées dans la roche ( Romain les a comptées

).
Nous restons 2 jours à Ninh Binh avant de descendre plus au Sud.

Ninh Binh is located South-West of Halong city and it takes 5 hours by bus from there. The city is not really beautiful but the reason why we come here is visit the magestic limestone formations of Tam Coc which can be compared to a small inland version of Halong Bay.
We do a rowboat ride down the river. The rowers have a very specific way to handle the rows, they are adept at using their feet to propel the oars.
The road takes the boats through several caves. The longest one is 120m and is just high enough to let us go through.
A few kilometers from Tam Coc, we can reach the top of an hill by climbing on a paved but pretty steep path (463 steps, Romain did count them). On the hill top there is a panoramic view where we can see the Ngo Dong river winding through Tam Coc.
We stay 2 days in Ninh Binh before going south.

Balade sur la rivière Tam Coc. Concentration maximum


A boat ride on the river in Tam Coc. The concentration is very high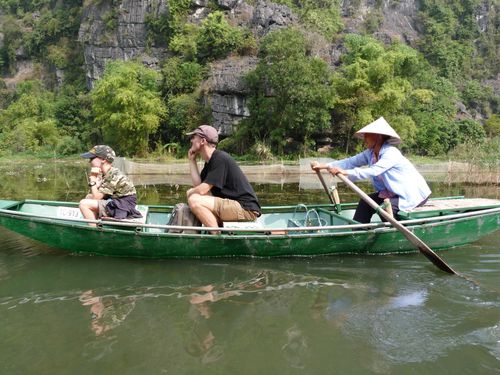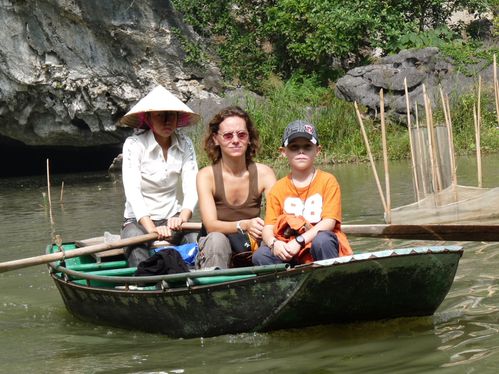 Deux façons de pagayer bien différentes...
Two different ways of rowing...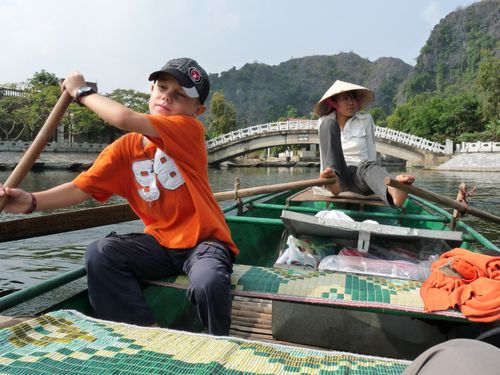 Sous un des tunnels ; attention la tête...
Under a tunel ; be careful of your head ...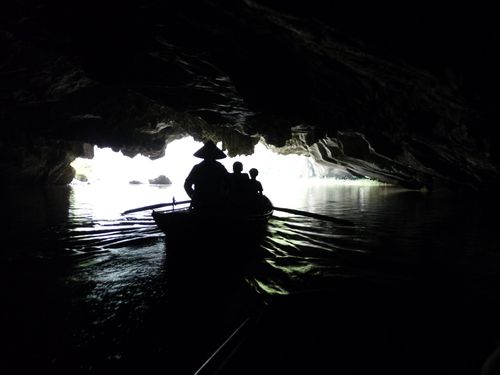 Au fil de l'eau...
On the river ...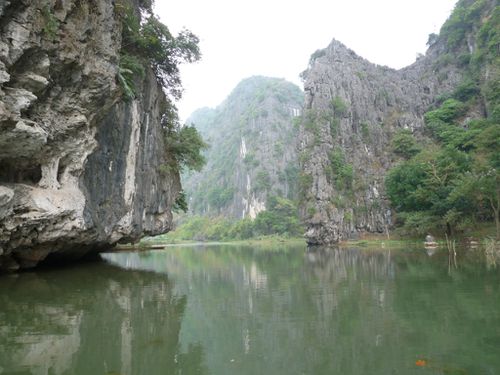 La rivière vue d'en haut...
From the hill top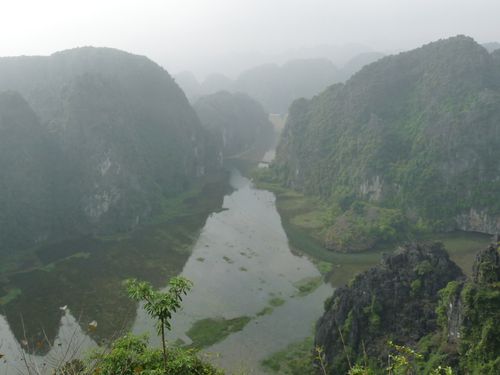 Ninh Binh : scène de rue dans le centre-ville
Ninh Binh : seen in the centre of the city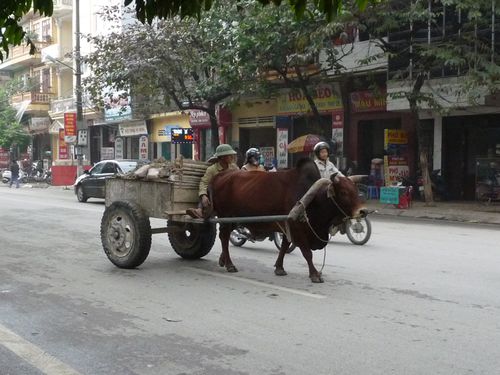 Au marché. "Avez-vous vu Mirza, on le cherche partout, mais où est donc ce chien, il va me rendre fou..."
At the market... This is the place to taste dog food...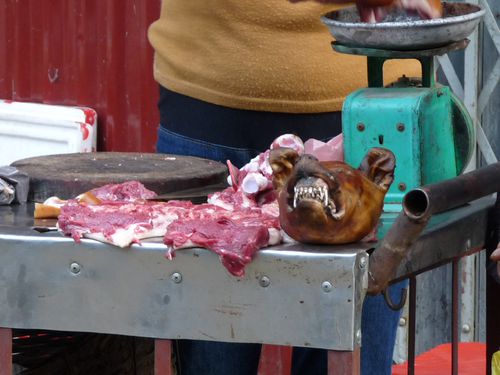 Pour plus de photos, vous pouvez consulter l'album.
For more pictures, please have a look at the album.

A bientôt pour la suite (Hue, Hoi An et les plages du Sud

)
To be continued (Hue, Hoi An and the beaches in the south

)